After the closure of the factory in 1996 all three Bossons Signs remained attached to this derelict building until March 2004 when refurbishment works were started. The signs were then donated to Congleton Museum.
Other IBCS members will know that I tried for years to get hold of at least one of these signs from the then owner. It would certainly have looked impressive positioned behind the group photograph at the Annual IBCS Convention. It was intimated by the owner that the signs may be available but at the last moment and just before the refurbishment works started all three of these signs were handed over to Congleton Museum. I did approach Congleton Museum about the possible purchase of one of these signs but they were not receptive and have since decided to keep them securely locked away from public view. O Well!! Below it an article for the Guardian Newspaper about the handover of these signs.
Signs Article from the 'Guardian Newspaper'
Developers hand over mill treasures to museum - DEVELOPERS are helping to keep alive part of Congleton's industrial past. Brook Mills is being given a new lease of life with a £10 million residential scheme. Brook Mill Developments is creating 61 apartments by converting the mills, which date back to the late 1700s, and also through new building work. The developers are to donate items from the mills to Congleton Museum, including a sign from the former Bossons ceramics factory. Brook Mill Developments chairman Colin Farmer is pictured presenting the sign to Sue Murgatroyd, the museum trustee responsible for collections. Trustees were invited to look at the former factory and textile mill at the start of its transformation, and selected items they wanted for the museum's collection. "We're delighted the museum wants to keep these things," said Mr Farmer. "Bossons ceramics are very popular in the United States, and I had a number of calls from collectors there who wanted to have the sign". "But it belongs to Congleton."
Sign No 1
Another view of Sign No 1 (The front yard where the Ray Bossons chauffeur, who was called Charlie Postles, often cleaned the 'Rolls Royce' car).
Sign No 2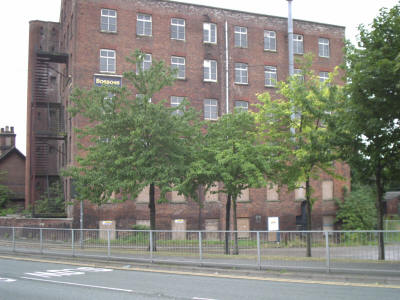 Sign No 3 (behind the trees)