Gibbon
Wild Life Series Composite. Produced 1967 to 1969. Sculpted by Fred Wright. Height 11 inches. Sometimes with a rarer separate set of bananas.
Rarity - Fairly Rare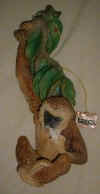 Gibbon with Bananas - I am not sure if the Bananas are original Bossons
Goldfinches & Magnolias
Produced 1955 to 1957. Length 10 inches.
Rarity - Rare
The 4no 'Bird Wall Sets' comprise of 'Bullfinches & Clematis', 'Chaffinches & Roses', 'Goldfinches & Magnolias', 'Orchids & Parakeets'.
Gorilla Group
Baby Doll & Mighty Midget - Comes with or without a timber plinth after 1994. Produced from 1984 to 1996. Sculpted by Alice Brindley. Height 6.5 inches. The without timber plinth model is rarer.
Rarity - Rare
Gorilla Family, Panda & Fennec Fox became the ' Fleur-de-lis Collection' and is disguisable from the 'Crown Collection' by the circular plinth. All models were made with the new 'Stonite' which was a blend of PVC plastic and stone material to reinforce and stabilise.
This piece was inspired by a mother gorilla (Baby Doll), cradling her week-old offspring "Kabu", born at Howlett's Zoo in Kent, England. Also included is her number two son, Kibobo.
Part of the proceeds of the sales were donated to the World Wildlife Fund.